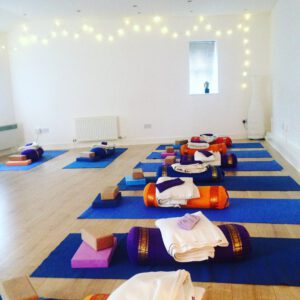 As we head toward the winter months we can often find ourselves depleted and lacking in vitality. Soma is connected to our inner essence our vital energy, this is a time to cultivate ojas and restore our defences. However modern living can leave us with little time for rest & rejuvenation.
Join me for an opportunity to explore the self through movement, relaxation and meditation. A chance to balance, heal and transform built up stress and tensions.
The yoga will include meditative vinyasa flow yoga and grounding restorative postures. We will complete the afternoon with an aromatherapy infused Yoga Nidra (often referred to as yogic sleep) to fully relax the senses and to set an intention (sankalpa) for the season ahead. Workshop includes herbal tea on arrival and healthy treat to finish.
2pm – 430pm Saturday 17th November 2018 – NOW FULL ** NEW DATE ADDED SUNDAY 25th NOVEMBER
Session taught by Maria Kelly
Held at Hale Yoga Studio, Ashley Road, Hale www.haleyoga.com
Workshop costs £20 – booking is necessary as this is a small studio and spaces are limited. Contact info@mariayoga.co.uk to book your place or book below