Shop Aromatherapy

Introduction to Essential Oils Kit includes a 5 mL bottle of dōTERRA's CPTG Certified Pure Therapeutic Grade® Lavender, Lemon, and Peppermint essential oils. The stunning presentation box also includes suggested uses of the included oils providing your prospects with an immediate experience of the life-changing benefits of essential oils.

Pure Bliss Savasana Bath & Body Oil has a wonderful calming yet uplifting effect. A blend of Lavender, Geranium & Wild Orange feel the days tension release and ease away.
Products are handmade using the highest grade & doTERRA Aromatherapy Oils – chemical free
Geranium – This oil has a stimulating effect on the lymphatic system and balances hormones. (One of my favourites)
Wild Orange – A warm cheerful, uplifting oil can help with lack of energy and depression.
Directions for use – Simply pour a small amount of either Oil into your bath then submerge yourself. The oil will stay on your body so no need to moisturise after your bath. Alternatively this can be used to massage into the skin. Avoid using this on any areas of broken skin.
Testimonial
Having sampled at the end of your yoga classes, its great to have at home, as it really does have a calming yet uplifting effect. I put some under my pillow at night and find it helps me to relax, sleep well and most importantly recharge. – Leanne
doTERRA Lavender Essential Oil
With a distinct aroma and countless applications, Lavender has been used for centuries. Anciently, the Romans and Egyptians would use Lavender as perfume and for bathing and cooking. Since that time, many have discovered the myriad benefits that Lavender holds—using Lavender oil topically for skin, internally to ease feelings of tension and promote restful sleep,* and more. The versatile properties of Lavender essential oil make it a must-have oil to keep on hand at all times – £22.00 15ml
Clothing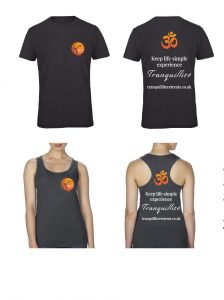 Tranquillite Retreats Ladies Vest Tops and Mens T-Shirts
Sizes
Small, Medium & Large