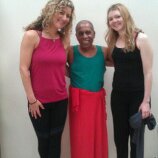 I've just spent the last week with Manju Jois, Ashtanga Guru and the oldest son of Ashtanga Yoga authority Sri K. Pattabhi Jois. Myself and a group of around 20 spent the week carrying out various sessions of Ashtanga Yoga. We were taught and shown adjustments by Manju for several of the asanas (poses), which we then had to practise on each other. After each of the sessions we sat around in a circle listening to stories from Manju's own life and Yoga experiences. Each day was then ended with chanting mantras in Sanskrit.
I've definitely had one of the best Yoga experiences since I began practising. Manju was very different to what I expected from a teacher of Ashtanga. I have always seen Ashtanga as being a serious and disciplined area of Yoga, but Manju was friendly, funny and humble. I loved the way he brought a sense of humour into the practise. He made a point of telling us that Yoga does not need to be so serious and that if you make people feel this way they become stressed and tense (which doesn't particularly help when your trying to place your foot behind your ear!). He has a refreshingly simplistic outlook on healthy living which embraces modern culture whilst maintaining traditional values.
Taking this course has certainly helped to increase my knowledge of Yoga asanas (postures), pranayama (breathing) and chanting. However, more importantly it has inspired me to push my own boundaries and has given me extra confidence to pass my knowledge onto others. I now believe more than ever that Yoga is for everyone, including all ages and all abilities. I hope that I can bring a little 'Manju magic' to my classes and pass on the wonderful healing benefits of Yoga to as many people as possible.
Namaste and I'll see you all on the Mat!
Maria x