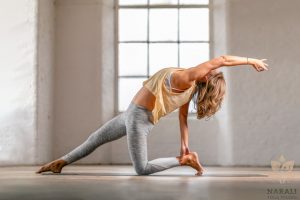 Maria was introduced to Yoga back in 1997 whilst living in Florida. It was here that she began studying several different styles of Yoga such as Iyengar and Ashtanga. She then continued her Yoga journey practising with various teachers across the U.K. and Australia.
After sampling various forms of Yoga Maria found herself drawn to the freedom & creativity of Vinyasa Flow. As her enjoyment and commitment for Yoga grew she became inspired to teach.
Maria completed her Vinyasa Flow Teacher Training in 2011 and now teaches Vinyasa Flow Yoga at various locations around Manchester and Cheshire. She also co-owns Tranquillite Retreats with her husband Joe. This company runs yoga retreats in the Anglesey and France, with the flagship venue being a beautifully converted farm in South-West France.
Following her teacher training Maria continued studies with yoga, including pre/post natal, anatomy, meditation and holistic therapies. This deepened her knowledge enabling Maria to offer a more personalised approach to students, one that supports the integration of mind, body and spirit.
Maria's style of teaching focuses on restoring equilibrium and encourages you to find your true potential. This can be done through stronger more dynamic practices or by encouraging practitioners to slow down holding postures and focusing on becoming still. There is always one common thread though and this is to be present, listening to our bodies. All practices are breath centric incorporating various techniques to aid with relaxation and reduce stress.
Registered with Yoga Alliance UK  RYT200 & RYTP (pre & post natal, baby yoga) BACP Accredited