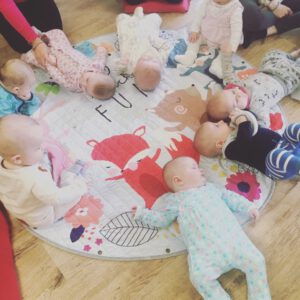 Mum & Baby Yoga – Pre Book 6 Week Term £54
includes postnatal recovery yoga – babies from 6 weeks to 12 months
Fujieda 2022 Upcoming Term Times
Hale, Tuesday 14th June to 19th July 1130am – 1230pm (suitable for babies from 6 weeks)
Location – InHale Yoga Studio, 1st Floor Progress House, Cecil Road, Hale, Cheshire WA15 9NZ
Lymm, Thursdays 16th June to 21st July 10am – 11am (suitable for babies from 6 weeks)
Location – Lymm Heritage Centre, 1 Legh Street, Lymm WA13 0DA
Mobberley, Fridays 17th June to 22nd July 11am -12pm (suitable for babies from 6 weeks)
Location – The FitWorks, Wood Lane, Mobberley WA16 7NY
All classes include, gentle baby yoga movements and soothing massage to help babies with development and to deepen the bond between mum and baby. There is a focus on post natal yoga for mums helping with posture, relieving tension, strengthening abdominals and pelvic floor. During class we use songs and sensory to bring a fun element more light hearted feel to the sessions. We then end with quiet time and a guided relaxation (yes this is possible even with a room full of babies)
Cost of the 6 week course is £54
Cheshire Yoga Babies Online Course
Due to the ongoing situation around Covid I decided to create an online course for you to enjoy in the comfort of your own home. The course includes 6 weekly classes of post natal recovery yoga, baby yoga, massage and sensory. These are yours to keep once purchased so you are able do the classes as often as you like. See trial class below to give you an idea of what to expect from the online course
FREE GIFT * receive a free sensory scarf and wooden shaker when purchasing the online course.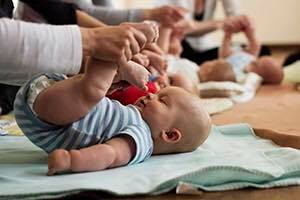 Upcoming Courses
online and in person
MUM & BABY YOGA 6 WEEK COURSE Autumn Terms
Hale, Tuesday 6th September to 11th October 1130am – 1230pm (suitable for babies from 6 weeks to crawling)
Location – InHale Yoga Studio, 1st Floor Progress House, Cecil Road, Hale, Cheshire WA15 9NZ
Lymm, Thursday 8th September to 13th October 10am – 11am (suitable for babies from 6 weeks to crawling)
Location – Lymm Heritage Centre, 1 Legh Street, Lymm WA13 0DA
Mobberley, Friday 9th September to 14th October 11am -12pm (suitable for babies from 6 weeks to crawling)
Location – The FitWorks, Wood Lane, Mobberley WA16 7NY
5 week postnatal recovery online course
Pre recorded classes – yours to keep
One for the mums…. Post Natal Yoga with a focus on recovery for diastasis recti (abdominal separation) and pelvic floor strengthening (don't ignore your pelvic floor 😬)
You can join at any stage and I mean any as this class is inclusive to new mums and even if your children are all grown up.
Classes will include basic core activation exercises as we develop strength and awareness. Tips on how to move with ease and good posture, somatic movements and fascial release plus breath awareness and relaxation.
The cost of this course is £24.99 * Free Gift Nurturing Relaxation for New Mums
ONLINE CLASSES DISCLAIMER
No refunds will be made once the class has commenced.
If you have any injuries or medical conditions including pregnancy, it is essential that you consult your doctor prior to taking part. For post natal yoga you must be 6 weeks post partum to join.
By joining the class you are accepting full responsibility for your own safety and recognise that in absence of a physically present teacher, it is your responsibility ensure that you stay within your own physical limits.
Enjoy your practice and if you do have any feedback or requests on future classes I'd love to hear from you.
Testimonial,
Thanks again for such a lovely class. I have to say it was the best yoga class I've ever done. You just know exactly what to say to help get the right position and the right stretch. And of course Max enjoyed his yoga too. 'bend them, stretch them' move always gets a smile out of him!! Thanks again and I hope to be able to come along to some of your adults yoga in the future. – Susie
9
Baby Clothing for SANDS Charity
donating £1 per item sold to Sands Charity through the work for good scheme
Sizes 0-3m, 3-6m, 6-12m
Cost £12.99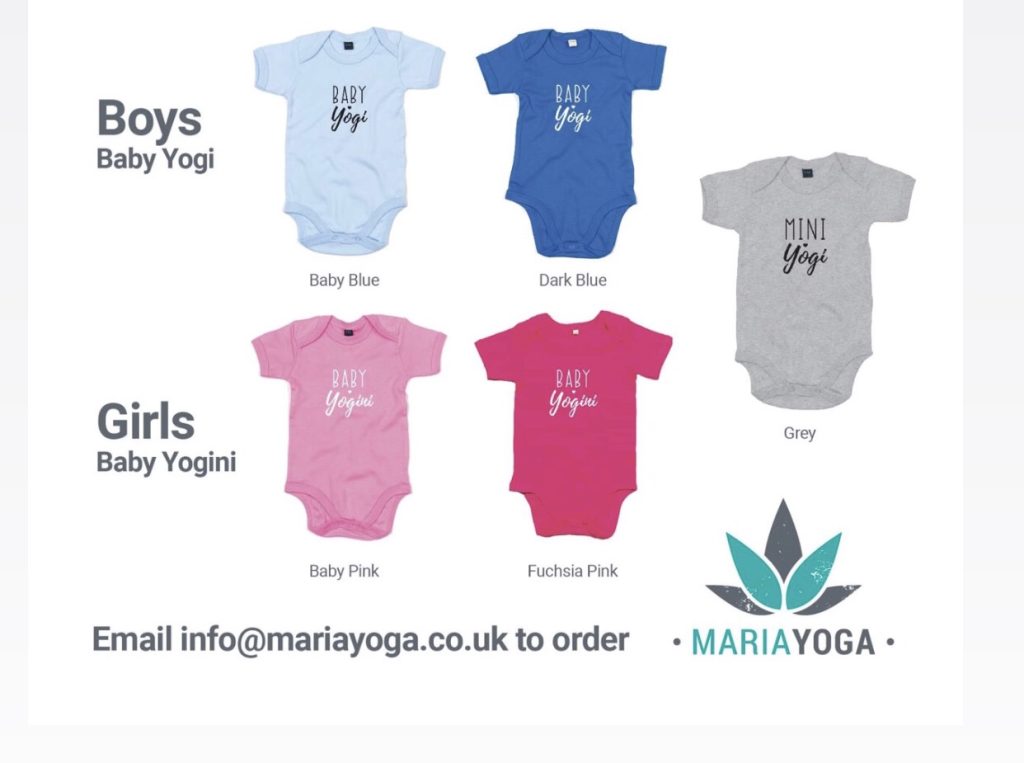 About Sands:
Sands is the UKs leading stillbirth and neonatal death charity. For over 40 years, Sands has been the informed voice of bereaved parents and families, and provided accredited bereavement and mental health support.
Sands exists to:
• to support anyone affected by the death of a baby for as long as they need
• to work in partnership with healthcare professionals, NHS and Governments to ensure that bereaved parents and families receive the best possible care
• to promote improvements in practice, campaigns and research to help reduce the number of babies dying

Sands' vision is to make the UK the safest place in the world to give birth by halving the number of babies that die during pregnancy or birth by 2025. Our ambition is to give every baby the best possible start to life, and every mother across the country, no matter what their background is or where they live, access to the best possible maternity care.

Although our ambition is high, we have a strong track record of success. Sands has helped lower baby deaths from 20 babies a day in 1978 to 14 in 2018, and is proud of its history of sector-wide policy, campaigns and multidisciplinary collaborations.

Bereavement support following the death of a baby is highly specialised. Our free bereavement support resources is vital to the mental health and wellbeing of bereaved parents and healthcare professionals. No other organisation provides dedicated bereavement support to individuals and families at point of need throughout their bereavement and grief journey, regardless of how long ago their baby died. Sands is there for them whether it is before they deliver, or many years later as they look back on their loss.